See on Scoop.it – parachinarvoice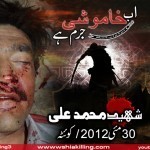 According to the sorces a Shia Momin was gunned down by Anti state terrorists Sipah e Sahaba on joint Road in Quetta.
Shia Momin Mohammad Ali S/O Ghulam Ali embraced murtyrdom after firing by Sipah e Sahaba terrorists on Joint Road near Mir Hotel. According to the latest information , the armed terrorists opened fire on Mohammad Ali S/O Ghulam Ali , he was taken to hospital where he was declared dead. The body of the murtyre is being taken to Nachari Imam Bargah. The Mutyre is identified as a resident of Alamdar Road.   Shia Momin Mohammad Ali is the third to embrace murtyrdom today in the hands of sectarian terrorists. Before this incidents two shia were attacked and killed in karachi. The entire world is protesting against continuous shia genocide goin on in Pakistan but the judiciary seems to be silent under the control of Government , security organizations and chief justice.     Who will ask for the price of our blood????